Sunday, September 21, 2008
Sambungan dari
introduction honeymoon
bulan lepas:
It's been weeks. Need help from the photos to recall back the memory. What I remember Since kul 4.30 pm camtu baru kami sampai hotel, we planned to have a rest only. Setup2 barang2 bilik and baring2 tengok TV. Rasa cam malas gile nak keluar. Rasa nak tidur jek seminggu straight. Penat tak hilang2 lagi - accumulated dari Miri campur penat kawen.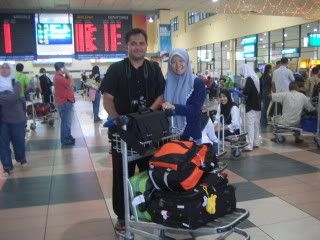 Waiting for boarding time
Malam tu pegi jalan2 and shopping2 kat 1 Borneo - the 1st and largest hypermall in East Malaysia. Best ah, ade kedai MAC kat sini and telah berjaya habiskan around RM300 for only a few MAC stuff. Haihhh...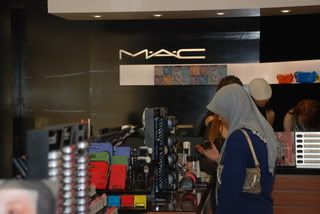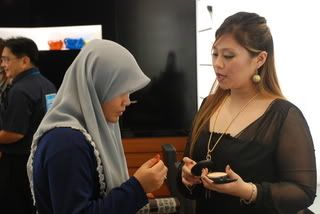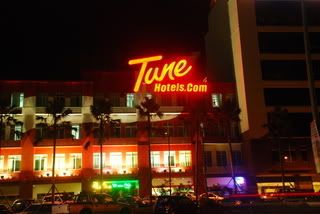 My favourite shopping complex ever sbb got MAC... haha!
Right on time. Tengah mega sale. Huhu...
Sangat tepat pilihan kami stay kat Tune Hotel walaupun bilik kecik jek. Hotel tu attached dengan 1 Borneo, so bebile masa rasa nak beli barang, just a few steps away dah setel shopping. Nak makan pun senang. Nak tengok movie ke ape ke, takyah jalan jauh2 dah. And kebetulan tengah ade sale. Best2. Huhu...
Selain MAC, ni barang2 yang kitorang shopping malam tue. We bought 2 pairs of shoes + 3 pairs of socks and get 1 free pink teddy bear. Huhu... Kasut tue nak pakai masa nak pegi Kundasang nanti. Pastu shopping kat Watson sesket.
Pastu dinner kat Old Town and then balik hotel. Tengok TV sampai tidur time. Plan nak pegi cinema malam tue tapi kensel sebab penat sangat. Takut tertidur masa tengah tengok movie, membazir jek. Huhu...